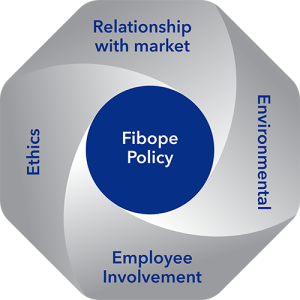 FIBOPE POLICY
Fibope is an industrial company whose mission is the development, manufacture and sale of high-quality flexible packaging shrink films for the benefit of shareholders, employees, customers and society in general.
Fibope develops its mission in a responsible manner, based on ethical and sustainability, embodied in its policies, procedures, and practices. To follow the pursuit of these principles in the management model, Fibope seeks to raise awareness and influence the supply chain for this management philosophy and long-term vision.
Fibope develops its mission according to the following principles: Relationship with market, Employee Involvement, Environment, Ethics.
OUR HISTORY



The name FIBOPE PORTUGUESA was born

1990




Construction of the factory began

1991




1992




First Fibope film produced – Repack

1993




Joint venture between Intertape Polymer Group Inc. and Fibope Portuguesa

1995




Company now has 26 employees. Produce Exlfilm FP26, which continues to be one of our most successful products to date.

1995




1998




2001




Intertape Polymer Group Inc. acquires Fibope Portuguesa

2003




An additional covered plant extension

2006




2013




Increase of productive capacity with a new 7 layer extruder

2016




2017




Exlfilmfresh brand is created

2019




Cradle to Cradle Silver Certification

2021




ExlfilmEco is created for a more sustainable and ecological solution. 21 Layers die and X-linking in-line.

2022




Fibope has always had a very sustainable growth and today we are one of the EUROPEAN LEADERS IN POLYOLEFIN SHRINK FILM SOLUTIONS.

NOW