PROJECTO S. I. INOVAÇÃO – INOVAÇÃO PRODUTIVA (2015-2017)
Co-financed by:
Project designation | S.I. INNOVATION – PRODUCTIVE INNOVATION
Project Code | POCI-01-0246-FEDER-000679
Main Goal | INCREASE IN PRODUCTIVE CAPACITY
Intervention Region | BARQUEIROS – BARCELOS
Beneficiary Entity | FIBOPE PORTUGUESA – FILMES BIORIENTADOS, S.A.
Approval Date | 07-08-2015
Start Date | 01-05-2015
Conclusion Date | 30-04-2017
Total Eligible Cost | 9.490.426,00 EUR
European Union Financial Support | FEDER – 4.270.691,70 EUR
National/Regional Public Financial Support | NOT APPLICABLE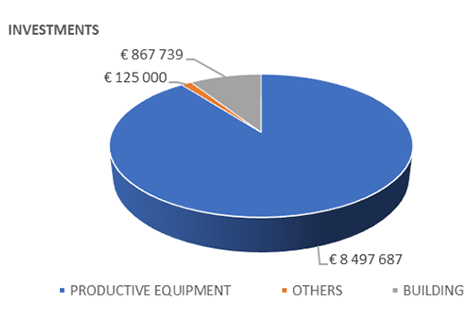 PROJECT SUMMARY:
Increase in Productive Capacity
This project consisted of the acquisition of a new automatic production line with an in-line irradiation process for shrink films, giving them certain specific properties for very specific purposes or uses in sectors such as food, hospital, etc.
This investment made it possible to increase production capacity by around 35% and turnover by 20%, fundamental goals to consolidate the growth of exports at FIBOPE, representing 98% of FIBOPE's total turnover. The goal of GVA growth of 46% between the pre (2013) and post project (2019) years was also achieved.
With this investment project, the goal in terms of saving energy resources was also achieved (with the installation of a photovoltaic park in the entire area susceptible to energy production) and the reuse of waste (with the installation of a recycling unit ).